Happy SPN Premier Day! To warm you up for tonight's glory,
tesserae_ and your's truly are gleefully offering you some tasty fic and art to honor The Boys Who Saved the World. "You're My Blue Sky" promises case!fic, mad love, and yes, bacon donuts. Be excited! (Created for
samdean_otp)



YOU'RE MY BLUE SKY, YOU'RE MY SUNNY DAY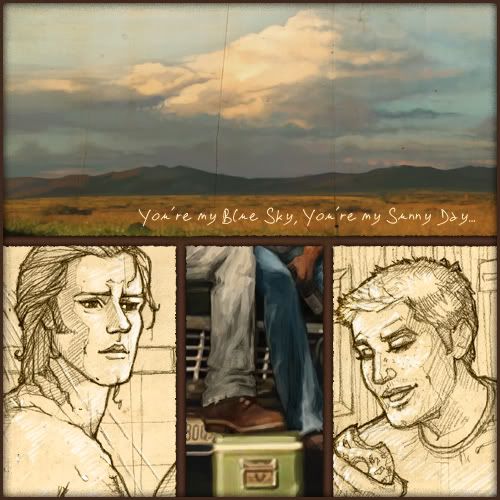 The big painting was created digitally with PS7, and the drawings began as pencil on paper, scanned in, prettified in Photoshop. I'm trying to come up with a style that can work for more narrative scenes but doesn't take bloody forever! Slowly getting there, I think. Sloooowly.

The babies by themselves. Arizona has some gorgeous scenery but yeah, we know where the money is. ;)




And icons:




Done and DONE! Huzzah!