Totally stole this from
ratherastory
but then she's so damned good at making lists and checking off projects, I could only hope to be so organized. Time is ticking away and I need to get some rockstar writing done. And arting, but that second one comes easier.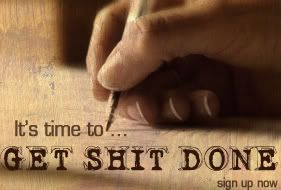 Fandom:
Supernatural
Big Bang:
spn_gen_bigbang
Current Word Count:
2,304
Daily Goal:
1,000 a day
// Final Goal: ?
What else do you want to get done this week?
1.) Work on my
spn_summergen
2.)
spn_summer_art
3.)
spn_j2_bigbang
(art)
4.) SPN/song-based art challenge over at DeviantArt.
*phew!* (Not all of these things have to get DONE done this week, but they've gotta get serious attention.)
Snippet:
"Some of her best friends here in town were witches but deep inside she hated them all. She had to."
// Summary:
It's case!fic that might be a little het. A little. Maybe.
If anyone's got a whip, feel free to crack it in my direction!
Current Mood:
determined
Current Music: 'Takin' Care of Business'--Bachman Turner Overdrive